Georgia, Florida and South Carolina Commercial Auto Insurance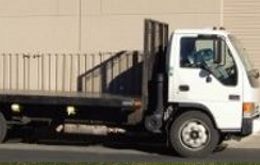 Commercial Auto Insurance insures your vehicles for physical damage and liability coverages for amounts, situations, and usage not covered by a personal auto policy. This type of business insurance covers a variety of vehicles and is also referred to as commercial car insurance, truck insurance, or fleet insurance. Our agents at McGinty-Gordon & Associates an Oakbridge Insurance Partner will help you find the best coverage you need for your business.
Why do you need Commercial Auto Insurance? - In general, if an auto is used in tasks related to the operator's occupation, profession or business a commercial policy is necessary.
What does Commercial Auto Insurance cover? - Commercial auto insurance, like your personal auto policy, provides similar coverages such as liability, collision, comprehensive, medical payments (or personal injury protection) and uninsured motorists coverage to Georgia businesses. However, there are also differences between a commercial auto insurance policy and your personal auto policy that may include eligibility, definitions, coverages, exclusions, and limits.
What are the coverages?
Bodily injury liability coverage – pays for bodily injury or death resulting from an accident for which you are at fault and provides you with a legal defense.
Property damage liability coverage – provides you with protection if your car accidentally damages another persons property. It also provides you with a legal defense.
Combined single limit (CSL) – liability policies typically offer separate limits that apply to bodily injury claims for property damage. A combined single limits policy has the same dollar amount of coverage per covered occurrence whether bodily injury or property damage, one person or several.
Medical payments, no-fault or Personal Injury Coverage – usually pays for the medical expenses of the driver and passengers in your car incurred as a result of a covered accident regardless of fault.
Uninsured motorist coverage – pays for your injuries and, in some circumstances, certain property damage caused by an uninsured or a hit-and-run driver. In some cases, underinsured motorist coverage is also included. This is for cases in which the at-fault driver has insufficient insurance.
Comprehensive physical damage coverage – pays for damage to or replacement of your car from theft, vandalism, flood, fire, and other covered perils.
Collision coverage – pays for damage to your car when it hits or is hit by another object.
Contact us for commercial auto insurance coverage, including but not limited to the St. Simons Island, Sea Island, Brunswick, Jekyll Island, Atlanta Georgia, Charleston and Hilton Head South Carolina and Fernandina Beach, Amelia Island Florida areas.